Our History
Chenda Polyclinic opened its doors on April 15, 2005. CPC's first clinic was originally located at Hotel Intercontinental Offices. It was a three-bed facility with one operating room. Two years later (2007), CPC moved into a spacious facility on St. 39 in Khan Daun Penh, not far from Wat Phnom and the riverside. We currently have a total of twenty five beds and two operating rooms.

We look forward to continually providing the highest-quality care to all of our current and future patients.
Our Mission
We want to be the healthcare provider of choice to the Cambodian community. Our mission is to provide the highest standard of services, meeting the needs of our patients at an affordable price with care and compassion.
Our Staff
Our team of physicians and nurses are highly experienced in dealing with any medical issue that may arise. We've assembled the best medical team in Southeast Asia, with regular input and support from American, Australian, and British doctors. Our doctors regularly attend seminars and training to ensure that their medical knowledge is always at the highest possible levels. To learn more, visit our staff page.
Our Facilities
Located in an expansive modern facility just north of Wat Phnom, our clinic is equipped with the expertise & technology required to handle a wide variety of medical issues, from routine check-ups to emergency situations. Our facility features several conveniences such as a pharmacy, ambulance pick-up service, rooms for long-term stays, and a vision center.

We provide a complete range of accommodation to meet all of our patients' needs. Rest assured knowing that should your medical condition necessitate an overnight stay, our rooms are designed with your comfort and safety in mind. All of the latest conveniences have been thoughtfully included in order to provide you with a truly comfortable experience.

Here are some of the features: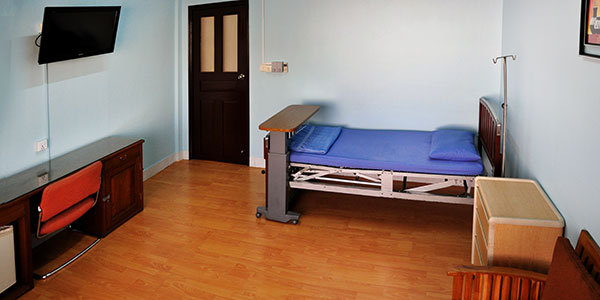 Computerized personal nurse call system
Cable television in multiple languages
In-room A/C
Free WiFi internet
Refrigerator
Complimentary bathroom amenities
Our Prices
You'd be forgiven for expecting the quality of care at Chenda Polyclinic to cost a fortune. However, that's not the case. Our prices are competitive with many other clinics in the Phnom Penh area - even those without our experience, technology, and reputation. Simply put, you won't find a better quality-to-price ratio anywhere else in Phnom Penh - or Southeast Asia, for that matter. Typically, you'd have to choose between cost and quality when selecting your healthcare clinic. When you come to Chenda Polyclinic, you won't have to make that choice. We offer top-notch service at a price that will surprise you - call us today to find out!